Christian Cox was a member of the Harrington Arts Alliance family for many years through our improv troupe and the production of "Godspell". He loved to make us laugh. Christian was known for being the "goofy" one. Through the joy of making people smile, he touched all of our hearts. Christian was always wiser than his years. His passion for theatre translated to writing as he got older. Through the power of the written word, Christian has left behind a beautifully powerful legacy.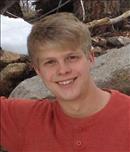 On February 2, 2016, Christian passed. In his memory, we have created the Christian Cox Scholarship Fund. This fund will be used to help with fees for those who otherwise would not be able to afford classes, workshops or productions.
Please use the Donate button below to help us with this critical scholarship fund! Any amount helps. Thank you for your generosity! Your donation is tax deductible!
About Christian:
Christian moved to Windsor in 2006 with his family. During his school years he was active in more than 20 theater productions, band, art, choir, and cross-country. In 2011 he was named a state finalist in the Doodle 4 Google contest. He attended Mountain View H.S. in Loveland for two years, and then transferred to Windsor, graduating in 2015. His classmates voted him "Most Likely to Publish a Novel." If you are interested in reading some of his work, please check out Christian's website: http://crabwax.wix.com/creativewriting.
Upon graduation, he took a year off of school to write and travel. – See more at: http://www.legacy.com/obituaries/coloradoan/obituary.aspx?pid=177701357#sthash.aEik82rU.dpuf