Brittany Grim (Harrington)
Executive Director 
A deep passion for the arts has always been a part of Brittany's life. Growing up with two drama teachers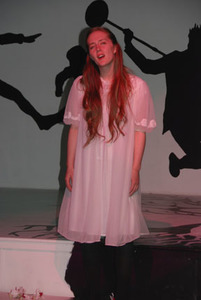 as parents, Brittany was destined to be involved with theatre arts. She has been a part of over 50 productions, whether her job is to perform, direct, set lights, design costumes or do make-up. Brittany graduated from California State University East Bay with a degree in English, emphasis in creative writing, and a minor in Theatre Arts. Also, Brittany has directed many shows at the alliance, including Into the Woods, Rent, Godspell, The Breakfast Club and West Side Story.  Brittany has held auditioning workshops, which have helped many students improve on their auditioning skills. These workshops helped shy students, who had never auditioned before, get substantial roles in powerful musicals like Les Miserables and West Side Story. These workshops also helped veteran "auditioners" improve drastically with their acting and singing abilities. Brittany truly loves working with students and seeing their passion for the stage grow, as they learn more and more about the magical art of theatre. haa@harringtonartsalliance.org
Brandon Harrington
Founder
Brandon was a teacher in the San Francisco Bay Area from 2003-2011. With a degree in Theatre Arts and a teaching credential in Secondary English, Brandon has taught Accelerated 9th grade English, Technical Theatre,  Acting, Speech and Debate, and has directed 25 stage productions; Beauty and the Beast, You're a Good Man Charlie Brown, The Wiz, Rent, and Jesus Christ Superstar just to name a few. He won an "Excellence in the Arts" award from his district. For the past 4 years he has worked relentlessly to put HAA on the map;  performing anti-bullying assemblies, birthday parties, workshops, haunted houses, kids' night outs, improv comedy troupes, preschool art programs, writing/directing shows, teaching classes, and creating meaningful learning opportunities.  Brandon has taught at Conrad Ball Middle School the past two years.  He was awarded "Teacher of the Year" in 2014 and earned district wide recognition being nominated for "Educator of the Year" in 2015.   He grew up in the theatre, as both his parents were Drama teachers. Being an educator is in his blood and he loves sharing the arts with aspiring students. Brandon is a working actor and is the creator and star of his own one-man kid's TV show, The Boo Show www.thebooshow.com. He has also performed in over 45 stage productions.  In addition to being an accomplished director and actor, Brandon also is an experienced scenic artist, choreographer, and has owned his own DJ business.  Besides his growing family and loved ones, nothing is more important to him than being a teacher and expressing himself through the wonderful world of theatre. Email brandonh@harringtonalliance.org
Lauren Harrington
Founder
Lauren was a Kindergarten teacher in the San Francisco Bay Area for eight years. Graduating Summa Cum Laude with her multiple subject teaching credential and an emphasis in childhood development, Lauren has excelled as an educator.  Since coming to Loveland she has taught dance classes, Zumba dance exercise, handled registration, and will now teach Kindergarten at Lincoln Elementary.  She is a dancer, actress, choreographer, director, makeup artist, and loving mom. Lauren has performed in 15 stage productions. Some of her favorites include A Midsummer Night's Dream, Bye Bye Birdie, Cabaret, Crazy for You and The Wiz. Lauren has been an aerobic and "Spinning" instructor, cheerleading coach, and personal trainer, making fitness and healthy living high priorities. Lauren has also taught Drama and Speech/Debate to children ages 6-12 for Ohlone College program "Ohlone for Kids." Lauren believes in nurturing each child's creative potential.
E-mail laurenh@harringtonartsalliance.org
Steven Harrington
Technical Director 
Steven has an advanced college degree in Theatre Arts and Public Speaking from the University of California/Santa Barbara.  He has taught high school and junior high school Drama, Speech, Debate and English for thirty-three years in the Bay Area of California, as well as fourteen years at Ohlone College for Kids.  His high school Drama program, which he shared with his son Brandon, was recognized as one of the top 100 in the nation.  Steven and Brandon's program was invited to the Edinburgh, Scotland International High School Theatre Festival six years in a row.  Steven won County and District Teacher of the Year awards, as well as one for "Excellence in Education-Performing Arts" with letters from a State Senator and a State Representative.  He has performed in and/or produced and directed ninety-nine theatrical productions from children's theatre to College shows over the past forty years.  Steven is currently the technical director for the alliance and enjoys creating memorable experiences for HAA's audiences.
Marily Harrington
Nonprofit Coordinator/Treasurer 
Marily has a Masters Degree in Education and a BA in Liberal Studies and utilized her Multiple Subject Credential teaching in the San Francisco Bay Area for 18 years. She taught English, Drama, Self-Esteem Building and Decision Making classes to 5th through 8th graders, as well as directed 30 theatrical productions. Marily has designed and constructed costumes for Children's Theatre, High School Theatre, College Theatre, and Community Theatre totaling over 50 productions. She is a master seamstress who also loves making jewelry, knitting with looms, and a variety of arts and crafts. Having written screenplays, stage plays for children, and performed as an actress and singer, Marily is an accomplished artist. Building self confidence in young people through creative expression has been a life goal, however her number one passion remains her family.
Marissa Dominguez (Harrington), LMFT Psychotherapist
As the oldest of the three Harrington siblings, Marissa has had no lack of theatre in her life. Performing in nearly 30 productions before the age of 18, Marissa has always had a strong heart for acting. In high-school she took her first psychology class and saw the perfect marriage between the arts and psychology. She has her BA in Psychology from University of California, Santa Cruz and her MA in Counseling Psychology from JFK University. After receiving her masters degree, Marissa spent some years living in Los Angeles training in sit-com, commercials, TV and film, getting an all-around education on the business of Hollywood. Preferring theatre to Hollywood, and following her calling to heal, she began her professional journey as a psychotherapist. Since then Marissa has made a tremendous impact in healing and mental health, leading groups, managing non-profits, and serving communities in mental health for the last 15 years. Her background includes holistic counseling serving children, couples, families and individuals of all ages as a licensed mental health therapist in California and Colorado. Marissa's strongest passions are in healing/personal growth, theatre, travel, and family, especially loving her role as wife and mother of two.
Bryce Schwarz:
Bryce has been a reccurring actor to the HAA stage mostly performing in the HAA comedy improv group, the Humor Games. He has been involved in acting and comedy improv since 2008 and joined HAA in 2011. He is studying education with Front Range Community College with plans to transfer to CSU. Bryce has been in many productions with HAA including Rent, West Side Story, and a stage rendition of Breakfast Club. He is excited to be more involved in the HAA family and hopes to help kids learn to be confident on stage through improv.
Brandon Likes:
Brandon has been acting, singing, dancing, and doing improv for six years. He has done seven shows at Harrington Arts Alliance and has been in the HAA Improv Troupe for three years. He is now one of the directors of the Improv Troupe along side Bryce Schwarz and Brandon Harrington. Brandon has done almost every style of theater under the sun, and by far his favorite is improv. He's passionate about improv and tries to let that passion shine through when he teaches. Brandon wants to show his students what improv is all about and how spectacular they can be at it, given the right guidance.